Whew, back again from another trip, this time to England. Mike and I spent most of the time in the country, but took one day to go to London. My goal was to see the Anselm Kiefer exhibit at the Royal Academy of Arts, a retrospective I highly recommend.
If I had to use one word to describe Anselm Kiefer's work, I would say "Layers." Layers of history, meaning, symbolism, and personal reflection. Also, layers upon layers of paint, chemical processes, and all kinds of found and conjured materials and textures.
Kiefer is known for his handmade books, which appear as both a means and a subject of expression throughout his career. Many of his books are personal and more traditional – large collections of watercolors, for example. However, there is always something experimental and unconventional going on. The books in the exhibit dedicated to the female nude, for example, are painted on layers of plaster. In glass cases nearby, he has presented books composed of lead. He paints on the lead "pages" and introduces various corrosive elements to the process.
Thematic to his work is the interaction of elements and the chemical changes associated with time, decay, and weathering. At his huge, sprawling studio complex, Kiefer leaves paintings outdoors with the idea that they continue to be in progress even when he is no longer applying his hand to them. The ancient art of alchemy is a key theme throughout the show.
One of my favorite pieces in the exhibit is called Ages of the World, a site-specific installation in the ornate rotunda of the Royal Academy. The piece is composed of stacked-up painted canvases, long sunflower stalks (a recurring image for Kiefer) rocks, and other detritus. Like layers of sediment, the stack seems to be sinking and grinding down into the earth under its own weight.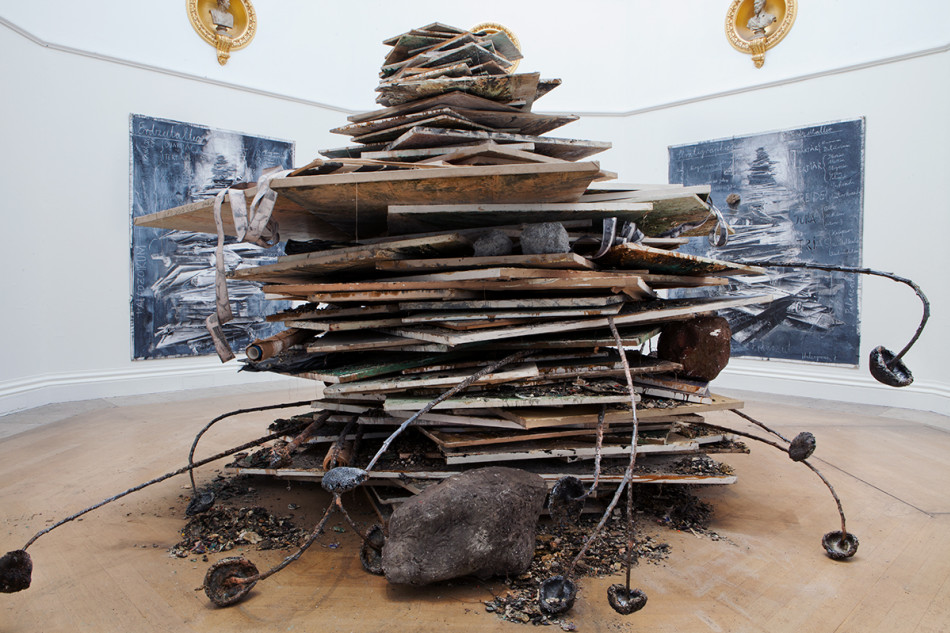 However, my true favorites are the paintings. Pictures do not convey the sculptural texture of these works. Two of my favorites are Ash Flower and Osiris and Isis.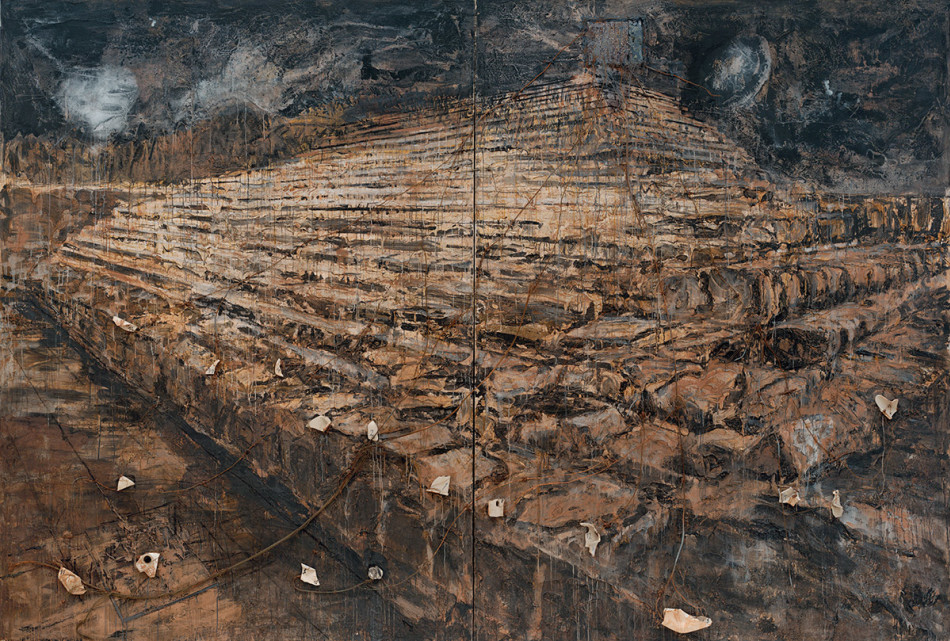 I also appreciated the work For Paul Celan: Stalks of the Night. The painting is an homage to the Jewish poet Paul Celan and it depicts a figure in the yoga posture, savasana, with a tree growing out of his torso. The figure lies under a dome representing the Celestial Firmament. As someone who has only been making art full-time for three years, I cannot imagine working on a single painting for as long as Kiefer worked on this one. He returned to it off and on for fifteen years.
The show ends with another installation of huge panels arranged in a maze-like formation. The panels are covered with huge woodcut prints representing the forest around the Rhein River. The images evoke the melancholy and forbidding landscape of Germany immediately following the war. It is almost shocking to see woodcuts not only on such a large scale, but arranged in a way that makes the viewer feel claustrophobic and disoriented.
As an artist and particularly a painter, I am inspired by Kiefer's focus on process and materials. I am still at a stage where I'm -well, let's face it – still afraid of my materials. I want to exert control and I feel lost when the materials overwhelm me. Kiefer shows the way when it comes to chucking any need for control and yet he manages to be in control of the process anyway. It's the difference between being a macro- and micro-manager, I suppose.
I also love that Kiefer is concerned with so many of the themes and media I find myself drawn to these days: origins, the cosmos, nature, yoga, printmaking, bookmaking, and using found materials. Most importantly, his work has a no-nonsense sincerity you can't find in most contemporary art. He takes on the large issues of history and myth and makes no apologies about it.