This past Sunday, I dragged myself out of bed under the dark cloud of prospective house cleaning. (We are getting the house ready for my husband's kids to come visit for the holidays). Draining my first cup of coffee, I fired up my computer and was amazed to find my chocolate doughnut painting was featured on the front page of Etsy! Look at the treasury here.
When I first joined Etsy and started inexpertly flailing around trying to sell my art online, I soon got the message that being on the Front Page is a kind of Holy Grail promising instant fame, a spike in views, and sales! I've since learned none of this is necessarily true, which leaves only one reason for desiring such recognition. In a word: validation.
And you get to put one of these badges in your listing:
Okay. I know it's a little silly.
Two years dragged by and I worked and worked on improving my shop while also cultivating a studio practice as an artist. I had numerous ups and downs. Sometimes I felt like I needed to give up on Etsy altogether because it just never seemed like my shop would take off. Then I would make a big sale and that would encourage me to hang in there. Etsy, even with its changing landscape and glut of listings, remains the most highly trafficked place on the internet featuring my artwork.
Lately, though, I'm not just "hanging in there." I've had some fantastic successes. My work is now up on the site Buysomedamnart, another platform I've coveted, and my favorite design blog of all, Design*Sponge, recently featured another one of my  doughnut paintings in a blog post. To top it off, I also recently received a nice note informing me the  French webzine 3petitspoints Magazine had  posted my bread paintings on their Facebook page. Très chic!
Is it a coincidence that on the heals of all this outside success, I would finally make it to the Front Page? No idea. All I know is that, even though I think coveting FP success over everything else is naive and distracting, I still got a kick out of watching my views climb from 100 to 200… to 400 (!) in less than two hours. I felt a little like a rock star! So, I guess my point is that I'm okay with a little validation! 🙂
And then the rubber met the road…
I've sold five pieces since Thanksgiving, including this watercolor of storm clouds over a sailboat, which I painted while I was living in Florida.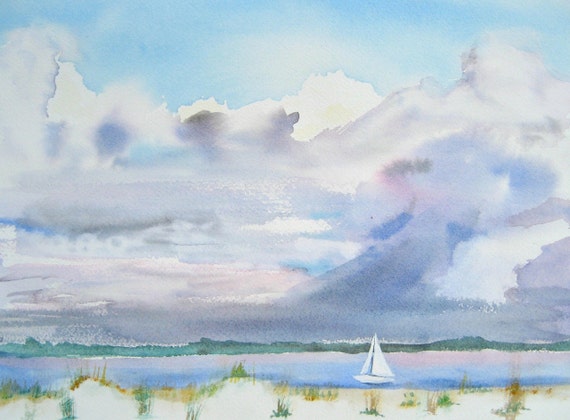 Also, one of my bread paintings sold.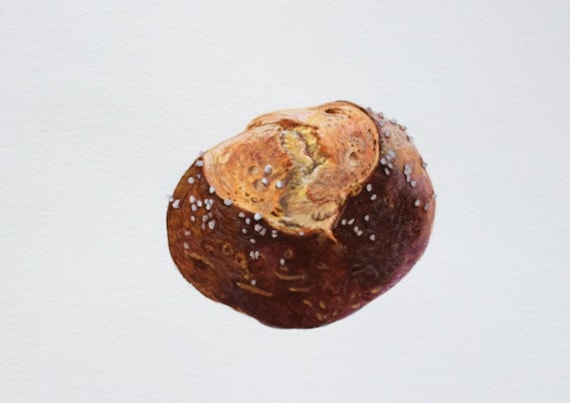 And my little kiwi: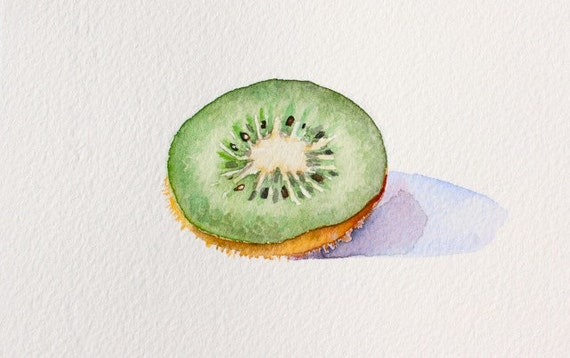 All of of these went to dear friends, which makes me very happy. I like the idea that my work is going to a "good home" and I may even get to visit it!
Before you offer some platitudes about how it shouldn't be about money and it's enough that I'm happy doing what I do, I'll direct you to this very practical quote, floating around the internet lately:
"When you buy from an independent artist you are buying more than just a painting or a novel or a song. You are buying hundreds of hours of experimentation and thousands of failures. You are buying days, weeks, months, years of frustration and moments of pure joy. You are buying nights of worry about paying the rent, having enough money to eat, having enough money to feed the children, the birds, …the dog. You aren't just buying a thing – you are buying a piece of heart, part of a soul, a private moment in someone's life. Most importantly, you are buying that artist more time to do something they are truly passionate about; something that makes all of the above worth the fear and doubt; something that puts the life into living." – Rebekah Joy Plett 
This is so true. The only thing I would add is that, when I sell a piece of work I've held on to for awhile, it frees me up to grow as an artist and move my work forward, exploring different ideas and subjects.
…A time for giving…
Also, now that I have a little money under my belt, I can give a donation to charity this holiday season that will come from me and the sweat of my brow alone and THAT feels great!
I've decided to give a gift to Miriam's Kitchen in Washington D.C. If you want to help the homeless this holiday season and are looking for an effective, well-run organization that will use your money wisely, do check them out. I can vouch for them, having volunteered there and followed their story since living in the city.
The main selling point for me is that Miriam's Kitchen is not only doing incredible work to feed and help homeless families get back on their feet, but they also offer art therapy sessions in addition to many other activities.
I'm so excited about helping them that I've also decided to donate 15% of my shop's proceeds through New Year's, in addition to the gift I've already given.
I am so thankful that, even as a "starving artist" I enjoy the privilege of being in a position to give to others this Christmas. I could not feel richer than I do right now!
Happy Holidays!
Heather